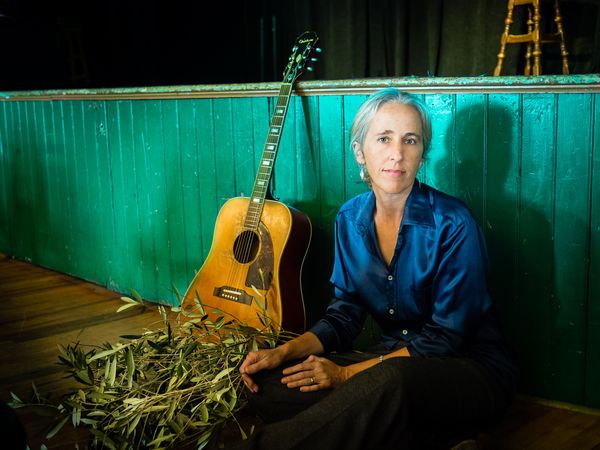 "In scorching form," (Telegraph), Northern California's own Rita Hosking sings of forest fires, culture clash, demolition derbies, the working class and hope. From NPR's Weekend Edition to Bob Harris' BBC show, Rita is moving audiences across the globe with her stories in song and soul-stirring voice, "a captivating performer," (R2 Magazine).

Rita's style of country-folk has been lauded for story and sense of place, and her performances praised with capturing the audience. Honors include winner of the 2008 Dave Carter Memorial Songwriting Contest at the Sisters Folk Festival, finalist in the 2009 Telluride Music Festival Troubadour Contest, and honors in the International Songwriting Contest and West Coast Songwriters' Association. "This California girl comes by her mountain music sensibility with true authenticity, with original songs deeply rooted in her family's frontier experience," (Dan Ruby, FestivalPreview.com) and Rita's fans call her "the real deal." A descendant of Cornish miners who sang in the mines, Rita grew up with deep regard for folk music and the power of the voice. 

While working to support herself, Rita earned a B.A. in Religious Studies with a minor in Cultural Anthropology from the University of California, Davis. Coursework focussed on world religions, culture, psychology, and creative writing. She then earned a California Teaching Credential in Social Studies from Sacramento State University, and honed her storytelling and organizational skills with over ten years of 8th grade U.S. History students.  While music always remained an interest, Rita gained perspective into the universal human psyche from an intellectual standpoint that would later be integrated with her own story.  The music she produces today is an amalgamation of her university studies, teaching experience, motherhood, and the humanity that has moved her since her childhood in the hard-hitting mountains of Northeastern California. In returning to her early love of singing and songwriting, Rita found a natural and accessible way to share this embracing of spirit. 

Rita began recording and publishing in 2005 with Are You Ready? and followed in 2007 with Silver Stream. For Come Sunrise, Rita's 2009 record, she ventured to Austin, Texas to work with producer, engineer and guitarist Rich Brotherton (of the Robert Earl Keen Band).  Come Sunrise won Best Country Album Vox Pop in the 2010 Independent Music Awards.  With Rich, Rita found a great recording partner and went to create 3 more albums at Rich's studio, Ace Recording in Austin.  Burn, an album from 2011 that featured a couple songs about demolition derby, was placed in the "Top 10 Young Female Artist Releases for 2011" by No Depression Magazine, and listed as a "Hidden Gem of 2011" by the UK's Observer.  Her 2013 release, Little Boat, is a record of intimate songs made purely with Rita's family, Rich, and Rich's wife Kathy.  It was selected by the Telegraph as one of the "Top Ten Country Albums of 2013."

In late 2015, Rita released her sixth album in the last 10 years, Frankie and the No-Go Road.  In a departure from her first five records, Frankie and the No-Go Road is a thematic album that follows a hero's journey, with twelve songs tracing twelve steps of the journey.  It's a soundtrack-like exploration of the human psyche and American spirit, accompanied by Rita's own artwork, animated video, and even paper maiche masks and theatrics used at the CD release concerts.  The album was awarded a "splendid" five stars from the Telegraph, and called "one of Americana's finest concept albums" by the Observer.  
Rita's latest studio release, a 2018 album titled For Real, was called "her best yet" by legendary bluegrass DJ and Rita fan, Eric Rice of KVMR.  California's Fiddlefreak Folk Review has this to say about the collection: "With these songs, she has put her finger on the pulse of America by addressing some of the issues that face us today: fake news, racism, homelessness, environmental destruction, and the disconnects created by rampant technology. The triumph of For Real is that these tragedies do not overcome her."  A favorite from the record, Rita's tune "California" is embraced by the California Wilderness Coalition as their theme song.
In April 2021, Rita and her partner Sean Feder released LIVE FROM LOCKDOWN -- straight from the soundboard of a livestream they did on January 29, 2021, at The Center for the Arts in Grass Valley, CA. 
GALLERY (for a range of photos)

A sample list of places played over 15 years of touring in the States and abroad:

National Cowboy Poetry Gathering, NV
Palms Playhouse, CA
Detroit Institute of Art, MI
Uncle Calvin's Coffeehouse, TX
Cafe de Amer, NL
Bob Harris Show, BBC London, UK
Freight and Salvage, CA
Whitstable Sessions, UK
Last Minute Folk, KS 
The Mockingbird, VA
Strawberry Music Festival, CA
The Woody Guthrie Folk Festival, OK
Paradiso, NL
Fairfield Studios, LA
Porcupine Music Festival, MI
The Red Shed, UK
Sierra Nevada Big Room, CA
Pistol River Concert Association, OR
Americana Music Festival, NV
Grateful Fred's, UK
Americana Upon Tyne, UK
Muziekpodium Bakkeveen, NL
CC de Breughel, Bree, BE
Lincoln Association for Traditional Arts, NE
Gilroy Barn Concert, CA
Olive Street House Concerts, KS
Kuumbwa Jazz Center, CA
Common Fence Music, RI
Seven Arts, UK
Grass Valley Fathers' Day Bluegrass Festival, CA
Artz Rib House, TX
McNear's Mystic Theatre, CA
White Gull Inn, WI
California Worldfest, CA
Great American Music Hall, CA
Henry Tudor House, UK
Our Kind of Folk, FL
Laage Vursche, NL
Pasadena Folk Society, CA
SLO Folks, CA
Fiddle and Bow Folk Music Society, NC
Barker House Concerts, TX
Sisters Folk Festival, OR
Richard's Landing Town Hall, Ontario CA
Folk Alliance, TN
Folk Alliance, MO
Bound for Glory, NY
Theater de Wegwijzer, NL
Telluride Music Festival, CO
Bedford Public Library, VA
Sonoma Folk and Bluegrass Festival, CA
Manitowish Waters Music Festival, WI
Oaksong Society, CA
Alberta Street Pub, OR
Billsville West House Shows, WA
Alhambra Theatre, OR
El Rey Theatre, CA
The Balcony, NE
Meneer Frits, NL
Ricegrass Festival, TX
Kate Wolf Music Festival, CA
The Anvil, UK
The Grass Valley Center for the Arts, CA
Heights Live, TX
The Arcata Playhouse, CA
Larmer Tree Festival, UK
Sellersville Theatre, PA
Timberline Mountain Music Festival, OR
Sunset Tavern, WA
Oregon Country Faire, OR
The Green Note, UK
Acoustic Alley, NL
Artichoke Music, OR
Live Oak Music Festival, CA
Sam Bond's Garage, OR
Wellsville Creative Arts Center, NY
Spirit of the Woods Folk Festival, MI