Hey all!  I'm so grateful for the numerous pre-orders of my new record and other creative tasks. All available at the
NEW ALBUM
page.   Here are a couple examples of a "Coyote" package I've made for supporters---a custom poem with a title of your making (and you may give me some more info, too), plus illustration, and new CD, pre-release.   Many thanks to the folks who allowed me to post! 
Heather, the River Rodeo Girl and Her Dogs
Strap snug and out of the chute,
her paddle digs into earth, heart, sky.
Boof, woof, dogs plane across a field of grass, fur flies at hull speed,
ending in a hole of tongues and tails.
Boats, paws, turn with alacrity of a quarter horse, a potter's wheel,
--spin and face the second before.
--flip and find your feet again.
--fly and free your soul.
River, mountain, slope, home,
they all carve their way downhill, back and forth
to the ultimate playspot.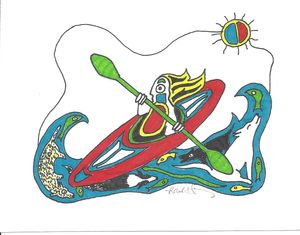 Creature Comfort 
Sucking sound, boot in mud, fly for the barn door.
In nightgown, jacket, one bare foot, I peel off a slice of alfalfa, dodge teeth.
My nose warms through your shaggy winter coat, slim fingers pull ice from your tail.
Scent of bark and snow, we pine for green meadow. 
Bridle behind my back, you allow an old apple, "I'll cooperate, for now."
Mountains of muscle move boulders, bones hard like oak trees,
Hooves hover over ground at lickety-split
But heat and sweet sod slow us, I lay back, my shoulders to your hips. 
Oh, my horse who is not mine, you belong to clouds and hills,
You smell of sun, sweat, thunder and dirt.
Your pussywillow muzzle breathes hay and watermelon rind.
First rain on dry grass, you are here.