The Rita Hosking family trio is taking a quick trip northeast October 17-26, hoping to catch the tail end of some fall colors!  It's our first trip to that area, so please tell your friends who may be in driving distance?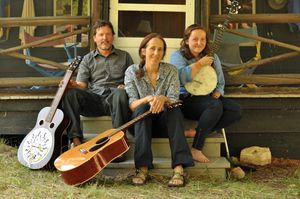 We'll be doing mostly Rita's songs (including a couple new ones), but also a great mix of co-written songs, lovely instrumentals, and some original Kora Feder tunes.
Friday Oct 17 -- Victor NY
Timberhouse Concerts
Saturday Oct 18 -- Wellsville NY  
Wellsville Creative Arts Center
Sunday Oct 19 -- Ithaca NY Cornell University,
Bound for Glory
Thursday Oct 23 -- Brooklyn NY
 Ditmas Park House Concert
Friday Oct 24 -- Sellersville PA  
Sellersville Theater
 w/Greencards
Saturday Oct 25 -- Portsmouth RI
 Common Fence Music
Sunday Oct 26 -- Schuyler Lake NY  "Cots and Crackers" house show
Coming next--Sean and Rita go to Colorado and Nebraska in November.
For a current schedule please see the
"shows" page
.  Thank you!